Community Focused. Committed to giving back to the community.
CMFSC is very community focused and has demonstrated its' commitment through a variety of activities outlined below.
Community Focused. Committed to giving back to the community.
We pride ourselves in the ability to assist in the funding of community infrastructure, including Montgomery School field lighting, Charles Best bench/shelters, Porter Elementary goals and the investment of labour toward the City of Coquitlam and School District 43 fields. This support provides a positive soccer experience for all field users in the Tri-Cities.
Local Community Involvement:
Our Board members are also members of numerous other City, District and community based soccer organizations and committees, providing thousands of hours of volunteer hours on an annual basis including but not limited to:
Coquitlam Fields Sport Association
City of Coquitlam Sports Council
Celebrate Coquitlam
Tri-Cities Youth Soccer Association
BC Coastal Soccer League
BC Soccer Premier League
Vancouver Metro Soccer League
Local Community Charities:
In addition, club staff and volunteers support the following community charities in the Tri Cities:
Supporting a variety of Developing Countries
The CMFSC and it's members have been actively involved with supporting developing countries, including support for: The Nomad Sports Academy, The Salvation Army, Kenya Childres, and many more.
Our Over 40's team visits Africa
Recently one of our Over 40's players visited South Africa, Botswana, Zambia and Namibia. Sebastian Tirtirau and his wife Carmen are founders of a non-profit organization in Zambia, by the Victoria Falls in Livingstone.
The organization is Nomad Sports Academy for Orphans, and we are very happy to support such an organization. Visit Website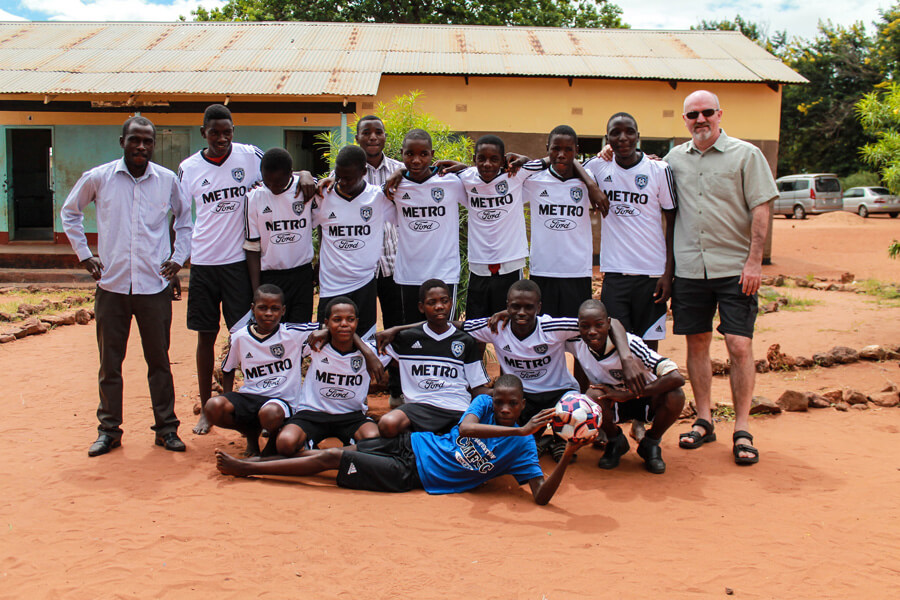 In support of the Salvation Army
In support of the Salvation Army, Vivienne Royle recently travelled to Zimbabwe and following is her testimonial from her trip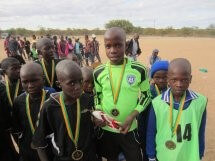 HI CMFSC

We just returned from Zimbabwe.

Our next project was supporting the local soccer program. We are very involved in soccer at home so I was very excited to see it Zimbabwe-style! We hosted two clinics and an area tourney. The two Zimbabwean men who ran the program were impressively skilled and very good with the kids. The clinics were obviously very important to the kids. To have one new ball for each boy and girl to use and cones to organize the event blew them away - and it is something we so take for granted. Their love of the game and their fearlessness left me feeling inspired. The tournament was a HUGE deal for the entire community. Many dignitaries, families, school children, community workers and people who just love the sport came out to watch. The environment was electric. The competition was fierce and it was mind blowing to watch kids with cleats play against kids in bare feet - and the barefooted kids did not back away! The players and coaches were so grateful for the many prizes (including jerseys, shorts, balls, nets) we provided. Again, these were items we at home take for granted, but were gold to these teams. Once again, I felt very fortunate to be Canadian.

Metro Ford, thank you so much for donating two sets of jerseys again this year. They are very, very much appreciated!
Soccer donations provided by CMFSC to Kenya Children
Ryan Sayer and his wife Kerrie recently spent their honeymoon in Kenya and while visiting their sponsor child, they also delivered soccer donations provided by CMFSC that were provided in lieu of guests providing wedding gifts. A very generous offering on behalf of Ryan and Kerrie.
Soccer donations provided by CMFSC to Africa, South and Central America
We have provided used uniforms and equipment to a variety of developing countries in Africa, South and Central America through various organizations including the Tri-Cities Rotary.
Soccer donations provided by CMFSC for Boots Without Borders
My name is Ziyana Samanani (I play on Jeremy Low's U17 HPL team). I am the project manager for Boots Without Borders- the initiative that Metro Ford donated gear to in December. AJ Nielsen helped me co-ordinate the gear pick up with you.
I just wanted to thank you for your generous donation to this initiative. When I talked to AJ last, she mentioned that Metro Ford would like some pictures to post on the club website. Attached are a few pictures of the girls wearing the Metro Ford gear, as well as a short video clip from Kenyan News (the Kibera Girls Soccer Academy was featured for International Women's Day and there is footage of the girls playing in the uniforms). I am sorry for the delay in getting these to you.
Once again, thank you for the contribution. All of the girls in Kibera loved their new kits.
Sincerely,
Ziyana
Abetavu Community Development Project – Hidden Talent Football Club
By way of CMFSC members, Coquitlam Metro-Ford SC has been connected to the Hidden Talent Football Club & Abetavu Community Development Project with a donation of soccer kits. Abetavu provides a loving and nurturing family environment for Uganda's orphaned and vulnerable children and also is a lifeline for their community. They provide such services as school sponsorship programs, daily special needs program, support group for parents of children with special needs, teen girls support group, youth and young adult soccer club outreach, children's church, community library and homework club, animal husbandry and farm training, emergency shelter for victims of domestic abuse, crisis conselling, and child/women advocacy. To see the incredible work being done by Carli Travers and Robert Birungi for the children of Uganda, please visit their website http://abetavu.org.