BC Soccer Coaching Requirements
As players grow and develop their skills it is important for coaches to be equipped with the right tools at the right time to provide the right environment for players, parents and coaching staff alike. Becoming trained at the right stage and by obtaining the resource material that is available by attending the courses, coaches will be able to impact soccer education in an organized and enjoyable fashion. Every course is progressive and more advanced as the players' ability increases.
We are pleased to confirm that we can now offer Coach Certifications for Club Coaches. Canada Soccer has made coach education more accessible by moving to a blended learning format allowing coaches to complete the theoretical part of the course online (PART 1) and the on-field component (PART 2) by attending an in person practical workshop.
IMPORTANT! BC Soccer is able to track your certification levels in our course management system called Coach Centre. To ensure that we do this accurately for you, please follow these steps:
Create a Coach Centre account by clicking here. If you already have one, please proceed to step 2.
You must* use the same Coach Centre full name and email address to register for the online theory (PART 1) by clicking here.
Once you complete the online theory course then you can register for the on-field practical workshop (PART 2) to complete your full certification level by clicking here. The CMFSC Course Codes are found on the 'Upcoming Clinics & Sessions' tab page when you click the course.

Before you are able to complete your program specific online course, you will be required to complete the pre-requisite "COACHING SOCCER IN CANADA" Module first.

It may take 7-10 days for your profile to be updated with your online completion, so please keep this in mind.
You may view all upcoming CMFSC hosted Clinics & Sessions by clicking the 'Upcoming Clinics & Sessions' tab on this page.
* By using your Coach Centre name and email (exact match) to register for the online theory, it will ensure that your credit will be automatically applied to your account. It may take 7-10 days to apply the online theory course credit to your Coach Centre account from the time you have completed it, so don't delay. You will need this credit as a pre-requisite in the system before you can register for the on-field component, so we recommend to complete the online theory well in advance.
REIMBURSEMENT
Payment will be required to be made by the coach for the online portion of the course. Once the below two steps are complete, payment will be processed it 2 - 3 weeks:
Email a copy of the receipt from the original payment to bookkeeper@cmfsc.ca with your full name and the team you coach.
Input your direct deposit information here: https://forms.office.com/r/XZFnz8gCDZ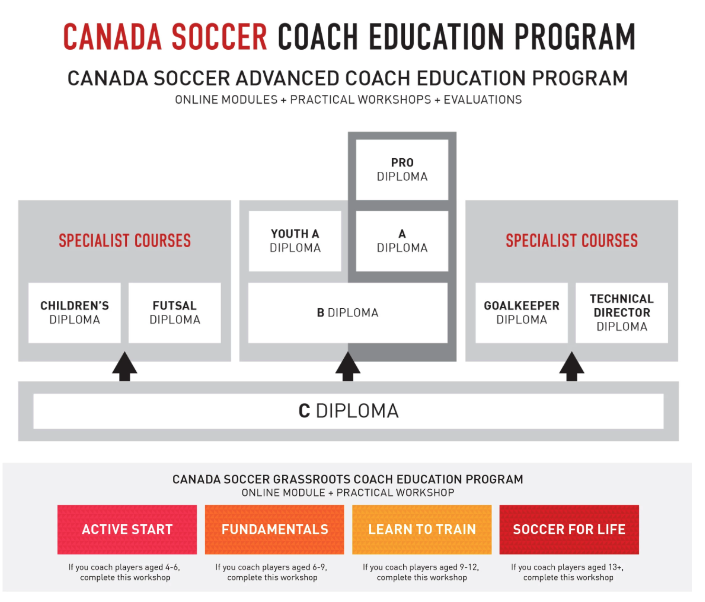 BC Soccer would also like to make all coaches aware of the Playing Environment which is shown below:
NEW Coaching guidelines through BC Soccer:
Head Coaches of any youth team shall complete the appropriate Canadian Soccer Association/BC Soccer Association coaching course respective to the age group of the team(s) they are currently coaching. Note: compliance with this rule will be as of June 1, 2016. Head Coaches shall comply within six (6) months of their Head Coach appointment
| Team Age Group | U6 | U7-U9 | U10-U13 | U14-U18 |
| --- | --- | --- | --- | --- |
| Coaching Courses | Active Start | FUNdamentals | Learning to Train | Soccer for Life |
Rules for Provincial Championships
Provincial Premier Cup, A Cup, B Cup (Girls), Les Sinnott Memorial Cup (Boys), Coastal Cup, Interior Play Downs: The head coach must have the following CSA / BC Soccer Coaching certification: SOCCER FOR LIFE
Below are the upcoming BC Soccer Clinics and Sessions:
There are no upcoming clinics & sessions, please check back again.