Six CMF 2005's Head to SFU for 2023-2024 Collegiate Season
Posted on: January 9, 2023
After five seasons with CMFSC's 2005 BCSPL team, Sabryna Bailey, Kate Smith, Alyssa Clark, Kiera Scott, Katelyn Magdalinksi, and Sarah Caravatta will continue to play together next season at Simon Fraser University. 2005 BCSPL Girls Head Coach, Esteban Mora, had this to say about the group, "One of my greatest joys as a coach has been being part of this team. All 17 players have been a joy to coach and I look forward to watching their growth as they move on to UFV, UVic, UBC, Capilano, Douglas, and SFU. I am excited so many players will be playing up the mountain at SFU so I have an opportunity to watch them play and continue to be impressed by their skill and competitiveness, as they have done so many times over the past five years."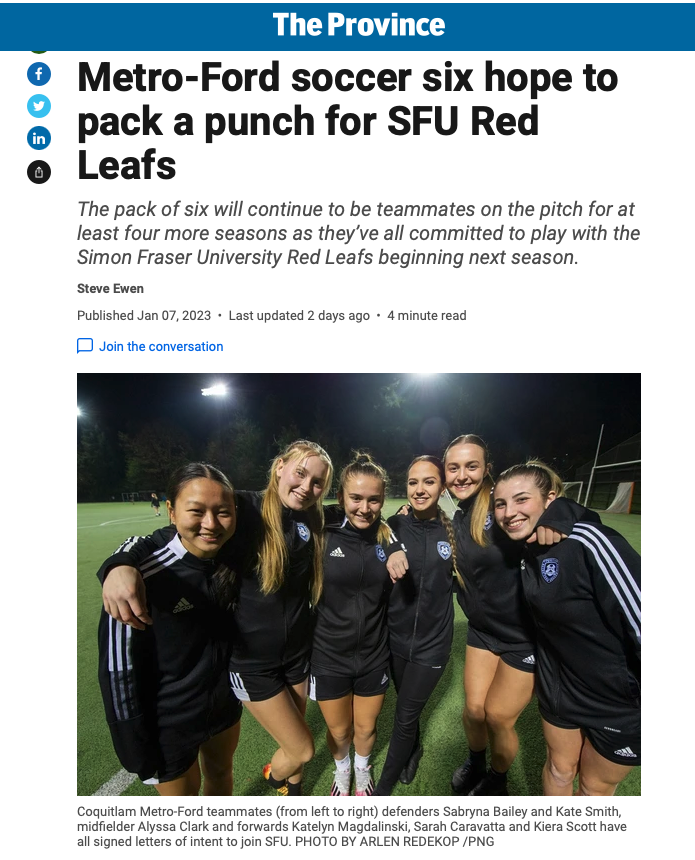 The CMFSC 2005 Girls BCSPL has been a notable powerhouse during their youth career as two-time provincial champions (2018, 2019) and attempting another title this upcoming summer. This talented group is sure to make an impact with the Red Leafs this Fall. We encourage our members to check out the story written by The Province about these players and their accomplishments.
Sabryna, Kate, Alyssa, Kiera, Katelyn, and Sarah will join current CMF alumni Isabella Muzzolini, Emily Smith, Avery Tulloch, Raegan Mackenzie, and Valerie Silva, marking CMFSC's amazing relationship with SFU. Their longstanding history includes notable SFU alumni, Club Executive Director, Sara Maglio, and Initiation Program Head Coach, Phebe Trotman. CMFSC alumni, Kelsey Atherley and Olivia Aguiar, returned to the CMFSC Women's Premier team after completing their collegiate careers with SFU as well.
Photo courtesy of The Province.