CMFSC Provincials 2022 Recap
Posted on: July 13, 2022
After two years of cancelled Provincial Cup competitions, we were so pleased for our teams to be able to return to play this Spring with the Provincial Premier Cup, Provincial A Cup, and Provincial B Cup.
We are so proud of all of our teams that represented Coquitlam Metro-Ford at this top level competition.
---
Provincial Premier Cup - Richmond, BC - June 25/26, 2022
2007 Boys - Provincial Cup Champions * Headed to Nationals
2008 Girls - Provincial Cup Champions
2004 Boys - Provincial Cup Champions
2008 Boys - Provincial Cup Finalists
2004 Girls - Provincial Cup Finalists
The Provincial Premier Cup is the highest Youth Provincial Cup in BC for players U13 - U18. This single knock-out format ran over three weekends with quarter-finals, semi-finals, and finals. We were so proud to see five CMFSC teams compete in the finals weekend.
After a 4-5-2 regular season, the CMF 2007 Boys powered through the final to beat Fusion FC. Joaquim Dharamsi scored twice in the game, to lift CMFSC 2-1 over Fusion. The win sends the team to Charlottetown, PEI, for a chance to compete in the 2022 Canadian National Club Soccer Championships set for October 5th - 10th, 2022.
The CMF 2008 Girls, amazingly, completed an undefeated season, going 11-0-0 during season, and finding their final win in the Provincial Cup Finals against Mountain United FC. Elena Stalone scored the only and game-winning goal.
The CMF 2004 Boys battled to a 2-1 over Vancouver Island Wave with a winning goal from Luca Di Francesco after finishing the season with a record of 9-2-1.
BCSPL Technical Director, Dale Mitchell, "We are proud of all of our teams that represented us in Provincial Cup play and would like to wish our two graduating U18 teams all the best in their future as many continue onto University and adult player opportunities in September."

---
Provincial A Cup & Girls B Cup - South Surrey Athletic Park/Burnaby Lake West - June 30th - July 3rd, 2022
U16B Atletico - A Cup Silver Medal
U15B Inter - A Cup Bronze Medal
U14G Pegasus - A Cup 4th Place
U14G Broncos - B Cup 4th Place
U15G Titans - B Cup 5th Place
U17B Bayern - A Cup 6th Place
U13G Xtreme - B Cup 7th Place
After a long season of battling in league play in the BC Coastal Soccer League and top showings in the Coastal Cup, four CMFSC Metro teams qualified for the Provincial A Cup & three CMFSC Girls Division 1 and 2 teams qualified for the Girls B Cup. Teams played three round robin games to determine placement in final matches against the top teams in British Columbia. Congratulations to all the teams!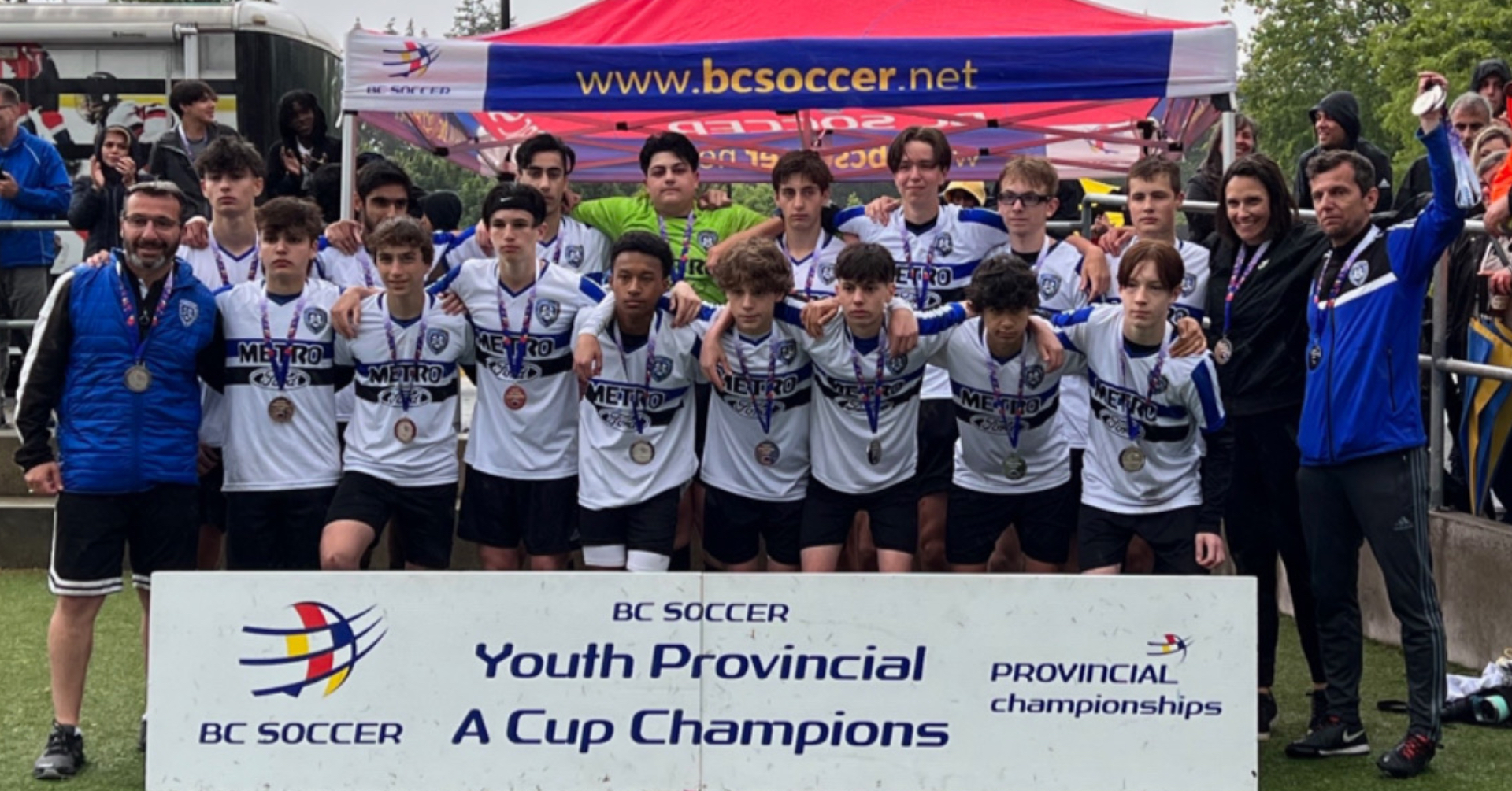 ---
Les Sinnott Memorial Boys Provincial Cup - Kamloops - July 7th - July 10th, 2022
U13B Sevilla - Gold Medal
U13B Villa - Silver Medal
U18B Cobras - Bronze Medal
U17B Lazio - 4th Place
U16B Porto - 6th Place
Five of our Division 1 and Division 2 boys teams travelled to Kamloops to compete in the Les Sinnott Memorial Boys Provincial B Cup tournament against the top teams from all over British Columbia which included Kamloops, Nelson, Kelowna, and South Delta.
The CMFSC Sevilla and Villa captured the gold and silver medals in the Under 13 division, in a thrilling final game that came down to penalty shots. These two teams both had incredible seasons in the BC Coastal Soccer League Under 13 Boys Division 2. CMFSC Villa, went undefeated with a 9-0-1 record in the regular season, won Coastal Cup, and won the silver medal in Provincials. The only loss this team had was in the final game which was determined by shootout. CMFSC Sevilla had a great season with a 10-1-1 record, came in forth in Coastal Cup, and captured the gold medal at Provincials with an amazing final penalty shot save by goalkeeper Brayden Cosman. Beyond excellence in ability, both of these teams and their supporting families, have displayed sportsmanship and respect on and off the field from simple acts as regarding each other with friendly hello's in the hotel hallways, showing kindness to strangers at the field to erupting in cheers equally for both teams during the awards ceremony.
Liam Carter, Head Coach of Boys, attended the weekend and had this to say, "It was incredible to see both of our teams reach this stage of a provincial tournament. Not only were the players first class in their conduct throughout the weekend, the families of each team were so incredibly supportive of BOTH sets of players. The final was a nail biter and it was fantastic that both teams were again celebrated by ALL parents following the match. What a great way to end this phenomenal season."